Book Promotions
Seasons of Change: Grace Restored Series Book One
Katie MacKenna
experienced one storm after another in her life. When Leukemia stole her mother from her and her father, Katie was only seven years old and her father didn't know how to cope after such a catastrophic loss. Will the death and abuse surrounding Katie throughout her journey in life force her to shut down just to survive as well? Will circumstances open Katie to new opportunities or will they forever isolate her in survival mode?
Chicken Soup for the Soul: It's Christmas!: 101 Joyful Stories about the Love, Fun, and Wonder of the Holidays
This collection of 101 festive holiday
stories will warm readers' hearts and spread the wonder of the holiday season with its tales of love, joy, and awe. A fantastic holiday gift and a great way to start the season!
Christmas is an exciting and joyous time of year, a time of family, friends, and traditions. You will delight in reading the 101 merry and heartwarming stories about holiday traditions, family, and goodwill. Remember, all our stories are "Santa safe" so they can be enjoyed by the whole family.
Chicken Soup for the Soul: The Power of Forgiveness: 101 Stories about How to Let Go and Change Your Life
Forgiveness frees us to get on with our lives! We can all benefit from letting go of our anger, and the 101 personal, touching stories in this collection will help you see the power of forgiveness and how it can change your own life.
Whether it's forgiving a major wrong or a minor blunder, forgiving someone is healing and frees you to move on with your life. You don't have to forget or condone what happened, but letting go of your anger improves your wellbeing and repairs relationships. You will be inspired to change your life through the power of forgiveness as you read the 101 stories in this book about forgiving others, changing your attitude, healing and compassion.
Romeo, Juliet, Petie & Me
Every person
who had a special pet as a child has a story. I love short stories, and this is one of mine. I encountered a woman walking an American collie recently. How noble and beautiful he was! He wasn't one of the light-colored, "Lassie-looking" ones like we all know and love, but dark like the collie I had growing up. They are such wonderful dogs – so sensitive and intuitive and intelligent! It made me remember my collie and this short story I wrote many years ago. Having recently published a book on kindle, it seemed simple enough to just go ahead and publish this as well.
Back To Bienville, A Journey Into Wellness
Diagnosed with Chronic Fatigue Syndrome,
Melinda was shocked but still felt that she would be one of the few she'd heard about that would recover within a few years by learning to manage the symptoms and the stress in her life — and through a positive, hopeful outlook. As she watched with joy the national news broadcast the celebrations of the long-awaited demise of the Berlin Wall, she determined that she would not be walled in by illness. She was strong and courageous and just could not see herself with a debilitating chronic illness no matter what "they" said. She enjoyed life too much and there were things to do she still hadn't done! She knew this type of thing happened to other people, but not to her! She would not be a victim of disease!
Green Lake
The suicide of Madeleine Heron's
husband leaves her at her sister's lake house for the summer, until she can 'sort things out' for herself and find a new direction, but life in the lake community is anything but conducive to calm; right away a three year old girl goes missing from the dam, Madeleine is nearly assaulted when her truck breaks down, and she discovers her neighbors have an affinity for digging holes and burying things in their yard, usually things they find floating in the lake, like a hand, or an arm… Native American conservation officer Eris Renard appears to be the only sane person around, and without warning Madeleine finds herself falling for him, but he's an adopted Indian who's just found his birth mother, a famous artist who hates Madeleine.
(Warning: graphic material may be disturbing.)
Kindle Unlimited: Everything there is to know about the Kindle Unlimited Subscription + 100 Kindle Unlimited ebooks you can read for Free! (Kindle Unlimited books by John Green Book 3)
Want to make $10,000-$12,000 per month
selling your ebooks.?
Then you had better pay attention. This is a no-nonsense book that gets down to business quickly without a lot of fluff!
The beauty of Kindle Unlimited & Kindle Books is that as an author you'll learn how to market and promote your material from within the Kindle platform. As a reader you will have access to thousands of incredible titles! Amazon had put a considerable amount of time and money into the Kindle Unlimited program and both author and reader can take advantage of it.
Deadly Stillwater Thriller (McRyan Mystery Series)
THE CRIME SERIES WITH OVER 1.5 MILLION DOWNLOADS
New York Times & USA Today Bestselling McRyan Mystery SeriesTwo girls gone…
Shannon hustled to her car and dug into her black purse, searching for her car keys, "Where the heck did they go?" He quickly put his hand over her mouth as she screamed and thrashed, slid the van door open, and dragged her inside… She tried to scream through the duct tape pasted over her mouth. Smith could see the horror in Shannon's eyes. It was only the beginning for her…
Twenty-Eight and a Half Wishes (Rose Gardner Mystery, Book 1)
The first book of the New York Times and USA Today bestselling series!
"Though much of the book is light-hearted and occasionally outright hilarious, the author sneaks in a few home truths along the way that will hit you where it counts, like how even someone's best intentions can box you in." –Everybody Needs a Little Romance
Mountain Angel (Northstar Romances Book 1) Kindle Edition
Aelissm Davis
and Patrick O'Neil know of each other but haven't met. Her meddling uncle has been searching for a way to remedy that, and the events surrounding the sudden death of Aelissm's boyfriend provide the perfect solution.
A talented crafter in the field of industrial arts, Aelissm is used to handling things herself, but she may be in over her head with a friend who can't understand that she wants to be alone in the wake of all that's happened. Things get even more complicated when, instead of advice, her uncle decides to send his detective one Pat O'Neil—to Montana to keep an eye on her.
Sudden Vacancies
Guests have come to expect the best when staying at the Paradise Hotel. Normally a safe haven and a popular place for relaxation and recreation, things have changed dramatically. Lately, its sense of security is shattered. A murderer is lurking inside the hotel. As the murders continue, it's up to Detective Young to decipher the conflicting information, uncover the secrets, and see through the lies of everyone at the hotel.
The Girl in the Box Series, Books 1-3: Alone, Untouched and Soulless
Find the rest of the series here: www.smarturl.it/girlinthebox
This is a collection of the first three titles in The Girl in the Box Series, which are about a teenage girl who develops powers far beyond those of a normal human, and her battles against those who would use her against her will. (Approx. 185,000 words total.)
Nikola Tesla: Imagination and the Man That Invented the 20th Century
If you want to learn about one of history's most fascinating minds and uncover some of his secrets of imagination secrets that enabled him to invent machines light years ahead of his time and literally bring light to the world then you want to read this book.
Imagination amplifies and colors every other element of genius, and unlocks our potential for understanding and ability.
Sheltering Hearts (Virgin River Book 11)
New York Times bestselling author Robyn Carr takes readers back to her beloved Virgin River country in this heartwarming tribute to Rhonda Clemons, founder of Zoë Institute and a winner of a Harlequin More Than Words award.
By discovering a seed of compassion and nurturing it to effect real change, the dedicated women selected as Harlequin More Than Words award recipients make our world a better place. To celebrate their accomplishments, bestselling authors have honored the winners by writing short stories inspired by their lives and work.
Wanted (A Private Investigator Series of Crime and Suspense Thrillers, Book 1)
Nowhere to hide…
What should have been a relaxing vacation in Paris turns into another unwinnable situation for expert criminology consultant Leopold Blake. Caught in the cross hairs of a ruthless assassin and on the run from the police for a murder he didn't commit, Blake and his team must fight to clear his name before it's too late.
Silence
For eleven years, Oakley Farrell
has been silent. At the age of five, she stopped talking, and no one seems to know why. Refusing to communicate beyond a few physical actions, Oakley remains in her own little world.
Bullied at school, she has just one friend, Cole Benson. Cole stands by her, refusing to believe that she is not perfect the way she is. Over the years, they have developed their own version of a normal friendship. However, will it still work as they start to grow even closer?
When Oakley is forced to face someone from her past, can she hold her secret in any longer?
*Silence deals with sensitive issues*
Blindsided (A Thriller)
*** From The Author Of Moneymoon's End & Time On The Wire
Matt Seattle Never Saw The Trouble Coming.Never Expected It From So Many Different Directions. Matt Seattle, a Sarasota stockbroker, befriends an older stock enthusiast, Joe Jesso. During one of their weekly Wednesday morning sessions, Joe announces he's gotten married. A week later, Joe dies.
The Lake (The Lake Series, Book 1)
At 17, Layla Weston
is already starting over. Having lost both her parents and grandparents, and with nowhere else to go, Layla is moving from Florida to a small town in North Carolina to live with the only family she has left: her estranged uncle and aunt.
The last five years of Layla's life were spent appeasing her lessthan-loving grandmother, followed by being her grandfather's caretaker. Growing old before her time, Layla lost her identity. Now she must learn how to allow herself to be the one cared for and loved.
When God Whispers Loudly (Terreldor Press Shorts Book 1)
When God Whispers Loudly
© Copyright 2011 Chris Hibbard
Terreldor.net
[SHORT STORY] When God whispers, the wise listen. In this short story, a busy husband and father fails to heed the quiet voice of the Lord. I doing so, he experiences the loving admonition of God whispering loudly. 2750 words, available without charge. Also available in Spanish–search: Cuando Dios Susurra en Voz Alta.
Season Of The Harvest (Harvest Trilogy Book 1)
If you've enjoyed stories by James Rollins,
Michael Crichton, Douglas Preston and Lincoln Child, get ready to strap yourself in for a roller coaster ride of terror as you learn that you truly are what you eat…
At a genetics lab where a revolutionary strain of wonder food crops is being developed, FBI Special Agent Jack Dawson's best friend and fellow agent, Sheldon Crane, is brutally murdered. The killer was looking for very special seeds that Jack's friend had taken from the lab, and tore his body apart trying to find them…
FREE TO DIE
Brad Ashton fled three years ago
to avoid a conviction for murder. Now he's back. And his hope for freedom appears to be within reach.
Unfortunately there are those who have no interest in his legal status; they only want him dead or on the run once more.
But for Brad, running is no longer an option. It's a table stakes game in which the risks are high. But he puts everything he has, including his life, on the table, then settles in, determined to win every hand.
Rushed (Rushed, Book 1)
Eric can't remember the recurring dream
that keeps waking him in the middle of the night with an overwhelming urge to leave, yet he spends each day feeling as if he desperately needs to be somewhere. With no idea how to cure himself of this odd compulsion, he decides to let it take its course and go for a drive, hoping that once he proves to himself that there is nowhere to go, he can return to his normal life. Instead, he finds himself hurled headlong into a nightmare adventure across a fractured Wisconsin as the dream reveals itself one heart-pounding detail at a time.
Horror, science fiction, dark fantasy. From the author of The Temple of the Blind. 84,000 words.
Out of Time: A Time Travel Mystery (Out of Time #1)
Professor Simon
Cross has spent his life searching for evidence of vampires and avoiding emotional entanglements. When a mysterious accident transports Simon and his assistant, Elizabeth West, back in time, Simon finally finds both the proof that he's been looking for, and the romance that he hasn't..
Realm of Deceit
Joe Scott and Mitch Logan
work for the Times Gazette out of New York City specializing in Mid East stories. While in Afghanistan investigating the Husam al Din, an Islamic militant extremist group and their leader, Imam Fawzi; Joe and Mitch narrowly escape with their lives from the Imam and in the process accidentally discover a cave. Within the cave, they would find bits and pieces of a 30 year old plan that could destroy democracy in the United States.
REALM OF DECEIT™ — The Enemy Within
REALM OF DECEIT – The Enemy Within
is full of action, drama, and mystery in a globe-trotting tale featuring Joe Scott and Mitch Logan. Heady with their success at finally disclosing the truth behind President Amjad Safwah, Joe and Mitch settle into married life secure in the knowledge that they have done a good deed for their country. Little do they know there are hidden forces remaining in the United States that are determined to carry on with Amjad's plans. Soon, not only Joe and Mitch but also their new wives, Judy and Eve, become targets of the Husam al Din, hell bent on taking out the two reporters who have tried to stop their plan of destroying America.
New Releases
Mystery: The Laird's Labyrinth: A Duncan Dewar Mystery of Murder & Suspense (Duncan Dewar Mysteries Book 4)
By all accounts, Lindisfarne
Island in Northumberland is a special place. For more than a thousand years, visitors have sensed The Other there, more so than anywhere else. The veil between the physical and spiritual realms is known to be thin on Holy Island, an isolated spot cutoff from mainland England twice a day by the North Sea. When Scottish detective Duncan Dewar agrees to solve an age old mystery on the island, he has his doubts. Discovering clues hidden in an ancient labyrinth at Norcroft Manor and uncovering an almost century old murder could get him killed. Will he meet the same fate as his predecessor or discover an early monastery's hidden riches? Follow Duncan as he explores England's Cradle of Christianity while navigating romance, family relationships, and his latest nemesis, Viking.
Mystery: The Christmas Contest: A Duncan Dewar Romantic Comedy of Mystery & Suspense (Duncan Dewar Mysteries Book 5)
The Scots didn't celebrate Christmas
for 400 years and the village of Taye is about to make up for it! Hoping for a relaxing holiday and a chance to solidify his relationship with Angela, Duncan finds himself in the middle of numerous contests, ancient Hogmanay traditions, misunderstandings, and a jewel theft. Will Duncan win the contest for Angela's heart? Joined by family and friends, Duncan is sure this will be a holiday no one will ever forget. Can Duncan solve the mystery and survive this romantic comedy? Snuggle up with a hot cider and find out!
Henry Heitmann, Author
Henry Heitmann
is a retired New York City Board of Education Special Education teacher and a teaching supervisor. Many of his poems and short stories have been published in numerous magazines and local news media including the "Sanibel- Captiva Review," the Florida Gulf Coast University "Mangrove Review," and the Florida Writers Magazine.
Heitmann has won several awards for his many works. He contributed a piece "Not Just a Drink of Water" to a book entitled "Shade in the Sunshine State, Reflections on Segregation in Florida" by Elizabeth Huntoon Coursen.
He has long worked at bringing together in this volume some of his unique and well crafted "Pocket Full of Tales" that will bring fond memories and new observations to readers of all ages and in many genres. He is a remarkably keen observer of life, and writes well of it. Like all good writers, he believes that each of us has a tale to tell and here are but a few of his carefully selected tales for your enjoyment. See an excerpt: Isle of Enchantment
Return of the Christmas Spirit
Christmas is just around the corner
when Star begins working at Butterburn library, but not everyone is embracing the spirit of the season.
Sixteen-year-old Arianna's mock exams are looming and she's feeling under pressure. With her father living abroad and her mother working three jobs, she doesn't have much support at home.
The bank is threatening to repossess Evan's house, and he has no idea how he's going to get through Christmas with two children who are used to getting everything they want.
Patricia's cliché of a husband, after 23 years of marriage, has announced he's moving out of the family home, and moving in with his secretary.
Daniel is doing the work of three people in his sales job, as well as looking after his kids and his wife. Pulled in too many different directions, he's feeling stressed out.
Can Star, the library's Good Samaritan, help set them on the path to happiness this Christmas?
It's. Nice. Outside.: A Novel
Meet John Nichols.
He's fifty-something years old, an ex-basketball player, ex-author, ex-philanderer, ex-husband, ex-high school English teacher. And he's the father of three: two overachieving adult daughters and 19-year-old Ethan, who will never be an adult. John's older daughter is getting married, and as the family members travel to the celebration, John is secretly preparing for a life change that will alter his family's hearts forever.
The Song of Hartgrove Hall: A Novel
A captivating novel that evokes the author's New York Times bestseller The House at Tyneford
Natasha Solomons's breathtaking new novel has it all: a love triangle, family obligations, and rediscovering joy in the face of grief, all set against the alluring backdrop of an English country estate perfect for fans of Downton Abbey
The Best Goodbye: A Rosemary Beach Novel (The Rosemary Beach Series)
From #1 New York Times
bestselling author Abbi Glines comes the next sizzling novel in the Rosemary Beach series, featuring well-known playboy and Blaire's half brother, Captain.
The look on Rose's face had screamed that she was hiding something. Hell, she'd practically run away from me. There was something to that. I knew there was…
Oblivion (A Lux Novel)
Experience the epic love story of OBSIDIAN
as told by its hero, Daemon Black…
I knew the moment Katy Swartz moved in next door, there was going to be trouble. Lots of it.
And trouble's the last thing I need, since I'm not exactly from around here. My people arrived on Earth from Lux, a planet thirteen billion light years away. Plus, if there's one thing I know, it's that humans can't be trusted. We scare them. We can do things they only dream about, and honestly, we make them look weak as hell. 'Cuz they are.
Fighting God: An Atheist Manifesto for a Religious World
Fighting God
is a firebrand manifesto from one of the most recognizable faces of atheism. In his book, Silverman-a walking, talking atheist billboard known for his appearances on Fox News-discusses the effectiveness, ethics and impact of the in-your-face-atheist who refuses to be silent.
Silverman argues that religion is more than just wrong: it is malevolent and does not deserve our respect. It is our duty to be outspoken and do what we can to bring religion down. Examining the mentality, methods and issues facing the firebrand atheist, Silverman presents an overwhelming argument for firebrand atheism and reveals:
Too Much of a Good Thing
Dean of Columbia University's medical school explains why our bodies are out of sync with today's environment and how we can correct this to save our health.
Over the past 200 years, human life-expectancy has approximately doubled. Yet we face soaring worldwide rates of obesity, diabetes, high blood pressure, mental illness, heart disease, and stroke. In his fascinating new book, Dr. Lee Goldman presents a radical explanation: The key protective traits that once ensured our species' survival are now the leading global causes of illness and death. Our capacity to store food, for example, lures us into overeating, and a clotting system designed to protect us from bleeding to death now directly contributes to heart attacks and strokes. A deeply compelling narrative that puts a new spin on evolutionary biology, TOO MUCH OF A GOOD THING also provides a roadmap for getting back in sync with the modern world.
Not If I See You First
The Rules:
Don't deceive me. Ever. Especially using my blindness. Especially in public.
Don't help me unless I ask. Otherwise you're just getting in my way or bothering me.
Don't be weird. Seriously, other than having my eyes closed all the time, I'm just like you only smarter.
Parker Grant doesn't need 20/20 vision to see right through you. That's why she created the Rules: Don't treat her any differently just because she's blind, and never take advantage. There will be no second chances. Just ask Scott Kilpatrick, the boy who broke her heart.
What's Broken Between Us
From Alexis Bass,
author of Love and Other Theories, comes her heartbreakingly beautiful second novel, perfect for fans of Gayle Forman and of Robyn Schneider's The Beginning of Everything.
A year and a half ago, Amanda Tart's brother got behind the wheel drunk, killed his best friend, and paralyzed his girlfriend. Today, he's coming home from prison.
Amanda's been the one living with the fallout, made worse by her brother's recent unapologetic TV interview. People think he's a monster. Still, she loves him. It's her dark secret, until she starts getting close to Henry again—whose sister is paralyzed from the accident.
VIP: I'm With the Band
Twelve-year-old Mackenzie "Mac"
Lowell's dreams have come true. Thanks to her mom scoring the coolest job EVER, Mac is going from boy band fanatic to official tour member of her favorite group, Perfect Storm. Good thing she's brought along her journal so she can record every moment, every breath, and every one of lead singer Zander Welling's killer smiles in written detail and daydreamy doodles.
But between a zillion tour stops and pranks gone wrong, Zander and his fellow band members, Heath Holland and Kyle Beyer, become more like brothers to Mac. When the boys' differences start to drive them apart, can Perfect Storm's biggest fan remind them why they'reperfect together? It'll be up to Mac–and her comic-book alter ego, Mac Attack–to keep the band together and on the road to stardom
The Only Child
A New York Times Best Illustrated Book
Like Shaun Tan's The Arrival and Raymond Briggs's The Snowman, this gorgeous and imaginative 100-page graphic picture book is utterly transporting and original.
A little girl—lost and alone—follows a mysterious stag deep into the woods, and, like Alice down the rabbit hole, she finds herself in a strange and wondrous world. But… home and family are very far away. How will she get back there?
Our Gang: A Racial History of the Little Rascals
It was the age of Jim Crow, riddled with racial violence and unrest. But in the world of Our Gang, black and white children happily played and made mischief together. They even had their own black and white version of the KKK, the Cluck Cluck Klams and the public loved it.
The story of race and Our Gang, or The Little Rascals, is rife with the contradictions and aspirations of the sharply conflicted, changing American society that was its theater
Queen Victoria's Mysterious Daughter: A Biography of Princess Louise
The secrets of Queen Victoria's
sixth child, Princess Louise, may be destined to remain hidden forever. What was so dangerous about this artistic, tempestuous royal that her life has been documented more by rumor and gossip than hard facts? When Lucinda Hawksley started to investigate, often thwarted by inexplicable secrecy, she discovered a fascinating woman, modern before her time, whose story has been shielded for years from public view.
Autographed Books
Secrets of the Spiral Tower (The McKenzie Chronicles Book 5)
As the murky waters of the Mississippi River at Port Gibson ominously part at the end of a taut tow line, a personalized license plate with the letters "Wil K MC" comes into view on the rear of a sunken car. Instantly, Connor realizes authorities have discovered the remains of his girlfriend, Willow Kingston McKenzie.
Before the car can be recovered and examined, he drives away from the scene, his thoughts drifting back to his adolescent years when he and Willow were inseparable. Their romance had ended when she left Vicksburg and the lucrative McKenzie Towing business, even though she was destined to inherit a large fortune from her father.
With time she had outgrown Connor and made a new life for herself in New York City, even though they shared secrets hidden in a cave in the National Military Park, near one of the spiral observation towers. Willow became a millionaire and world traveler in her own right, but she was haunted by the secrets of the spiral tower. Although rich and successful, she felt unfilled as a person and returned to her childhood home to right the wrongs she and Connor had committed over three decades earlier.
Old Man Burning
On January 22,1959, Old Main Dormitory at Mississippi State University was home to 1,100 college students. But early on Friday morning, January 23rd, the students were homeless. Old Main was ablaze and the ruins of the largest student housing facility in the United States would later produce the charred body of one of its own.
A Ghostly Shade of Pale
The divergent elements of a Southern Gothic nightmare converge and occupy the same stage in A Ghostly Shade of Pale. History files on a bygone era are ripped open and rewritten in games of murder, betrayal, the macabre, and the supernatural.
Michael Parker comes of age as the tranquility of the old South is shattered in the 1960s by civil unrest, the Vietnam War, and a wave of drug abuse that brings the war on drugs to his front door. Fresh out of Ole Miss, he joins the newly formed Mississippi Bureau of Narcotics as President Nixon declares war on drugs in 1970, and enters a world he is not prepared for. He becomes an unlikely player in a game of international intrigue and a clandestine struggle for the soul of America
Annie Mae Jumps the Broom
David Earl's ABCs
Meet David Earl Faulkner
, a college-educated, forty-something businessman with a wonderful wife and well-adjusted kids. But his judgment isn't always that great: he buys a strip club on a whim, invents a humongous brassiere designed to sneak beer into college football games, aruges with a foresty students about which side of a tree is officially the front, and talks his way into a colonoscopy and an endoscopy during the same doctor visit. Not to mention the brand-new air conditioner he destroys while trying to silence a noisy possum, and the thousands of aluminum cans he gives to a friend on Super Bowl Sunday. In David Earl's ABCs (Adventures, Beer, and Characters), author Mike Windham narrates fifty bite-size tales that will not only leave you laughing out loud, but will provide you all kinds of ideas on how to spice up your marriage, career, next hunting trip, your next barbecue, and your next appliance purchase. Read a few at a time, or, for maximum enjoyment, read all fifty in one sitting and start over as soon as possible!
Broken (The Raiford Chronicles) (Volume 3)
Police Chief Raiford Reynolds
learns that true evil never dies until the end of time as he encounters a brutal, maniacal killer bent on revenge. A number of police officers and FBI agents are assassinated by a skilled sniper who leaves no evidence. The first dead law enforcement officer is Ray's own sister-in-law, and all the others were somehow instrumental in the capture and death of Latrice Descartes twenty years before any one of them was killed. Once again, Ray finds his personal life and his professional life cannot be separated as his family become targets of a mad man.
Deception
Deception is not only the name of this book,
or the title of one of the tales inside. It might be said that deception is also the central theme of the hundreds of short stories John M. Floyd has written and published over the past eighteen years. Many are mysteries and some represent other genres (fantasy, Western, romance, etc.), but all of them involve trickery and suspense and Hitchcockian plot reversals. In many ways, this collection picks up where his previous book, Clockwork, left off. Here are thirty more delicious stories of mystery, intrigue, and betrayal. And although Floyd has often said he loves twist endings, the surprises here are not limited to the final pages or paragraphs: they also happen throughout the stories.
Fresh Frozen
After movie
star Allyn Saxton survives a string of broken relationships, she enters a reproduction center to have a baby. Her plans of seclusion are misguided when an Internet spy breaks through the center's security to steal her frozen embryos. But there is competition. A nearly-bankrupt policeman and his tormented wife are also patients, the wife so desperate for pregnancy that she plans to kill. Human reproductive tissue becomes a fatal commodity in "Fresh Frozen."
HE SAW THE ELEPHANT
This is a true story
about the amazing Civil War adventures of Lt. Charles Read, CSN. Mild mannered Charley Read was an Annapolis graduate from Mississippi. He entered the Confederate Navy at age 21. One of his shipmates said he could have easily stepped out of the pages of a Dumas novel. His tombstone in Meridian reads: With a crew of 17 he captured and burned 22 Union ships in 21 days and struck terror across the eastern seaboard.
Mississippi Innocents
Mississippi Innocents is a Southern Gothic Novel set in the Mississippi Delta at the turn of the twentieth century. It was inspired by the stories of my mother's childhood on a Plantation called Boone Deadening in Washington County, Mississippi. It draws from the rich cultures of the delta, including Black, Choctaw, and her own as a descendant of early English and German settlers. The book is based on these family stories and is woven together with my own imagination, childhood experiences and those of my siblings into one continuous cloth that is Mississippi Innocents.
My Mama's Closet
Little girls watch their mothers all of the time, and every mother has an intriguing boutique behind her closet door. At bedtime or anytime, little girls of all ages will delight in the forty-page book entitled My Mama's Closet by Alice Rhea Mitchell. When the little girl in the narrative poem explores her mother's closet, she spies the corner where her mother has placed items for the little girl to wear.
My Uncle Pat
My Uncle Pat lived a rather unique and mostly bizarre life. If you found yourself in his company, you were soon attracted by his charismatic personality. He was an interesting man because of his rather different approach to all that life presented him. He was an attractive, likable misfit.
This man could make you laugh and become angry, all at the same time. He was a dreamer and a schemer. When the good Lord made him, He threw the mold away. I've never known another like him.
Perhaps his family and his heritage contributed to his uniqueness.
Rocking Chair and Afternoon Tales
These 26 stories span the history of Mississippi, from the Civil War era through modern times. Each is set in Mississippi, bringing the unique flavor of local landmarks, dialects, and viewpoints in a blend of delightful voice. Most of the authors and poets are award winning, all with Mississippi roots and stories of our heritange.
Curtis Wilkie: "No state in teh Union produces more good stories, per capita, than Mississippi, so it's a treat to see this new collection of prose and verse from homegrown writers."
Kathleen Koch: "Reading this book was like sitting down with an old firend. The pages are brimming with places I recognize, people I know and circumstances – both heartbreaking and hilarious – that are oh so familiar: Thank you for taking me back home again!"
Saving Mississippi
Amid the misconception from television, the movies and the media for many decades, finally comes a story of, and from Mississippi that tells it like it is, and was. The remarkable tale begins in the turbulent sixties when a young black man has the courage to open his law office in the small fictional Mississippi town of Stuttgart. Michael Denton Washington, III meets every challenge that era presents and progresses in spite of tragedy, misunderstanding, ignorance, and prejudice. In this story, patience and love prevail, and the young lawyer and the state rise above the chaos of the times. Religion and individual spirituality serve as the background for how Washington is able to cope with the hand life deals him. Illustrated with rare folk art by Marcia MacLean. THE NOVEL IS NOW IN ITS THIRD PRINTING.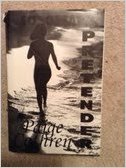 So Great the Pretender
This novel is about a former professional football player named Patie Corbin, who falls in love and uncovers the secret dealings of Chinese spies.
Southern Fried Child In Home Seeker'S Paradise
Southern Fried Child In Home Seeker's Paradise is about the experiences of a sometimes lonely, but ever independent only child growing up in Mississippi in the 40s and 50s. On one level, Southern Fried Child is a charming account of the unusual experiences of an unusual child. On another level, Moomaw's stories reflect profound and valuable insight into the stratified social, political and denominational milieu of a small southern town after World War II and before Brown v. Board of Education.
The Letter Writer: A Reporter's Civil War Journey
Growing up in 1850s Alabama, Cooper Waterman longed to become a man of letters – a lofty dream for a handicapped lad who was poor and fatherless, and left school at 13 to become a shoeshine boy. But with his imagination, a notebook and a stub of a pencil, he rose to become a newspaper reporter, eventually going off to serve as a Civil War correspondent. Covering an epic American struggle, Cooper survives the siege of Vicksburg and rides through bloody cavalry battles with the formidable General Nathan Bedford Forrest, taking time along the way to write letters to home for hundreds of wounded or illiterate soldiers. Compelling, ringing with authenticity and told through the eyes of a southern journalist, The Letter Writer is a Civil War story remarkably different than any you may have ever read.
WALK CAREFULLY AROUND THE DEAD
Shocco Tales: Shavin's Under a Southern Shade Tree
It's been years since Jim Ritchie
regaled us with those tales from his boyhood, college days and adult life, beautifully illustrated by his wife Perry in their first Shocco Tales book. Now, in Shavin's Under a Southern Shade Tree, Jim returns with 26 new yarns that will delight old fans and introduce new ones in the style you'd expect from a Southern grandfather and master storyteller. You'll start with a fragrant and hilarious side of country life in Phew! Is A Four Letter Word. You're smack in the middle of barbershop pseudo-wisdom as old buzzards swap insults in Slick Heads and Old Men. You'll grin at Jim's comedic paranoia in Stormy Weather, and laugh out loud at the antics of the tuxedoed, unhappy usher in Frank, Football and the Wedding. Even esteemed lawmakers get their share of attention in When Dry Creek Ain't Dry, a school principal is the subject of a creative practical joke in Vain Vengeances, and the tender tribute to Jim's daughter will strike a chord with fathers in M'Darlin'. Featuring Perry Ritchie's captivating artwork that adds even more life to the stories, you'll agree without a doubt that the new Shocco Tales: Shavin's Under a Southern Shade Tree was worth the wait.