Book Promotions
Roller Rink Witchcraft: Paranormal Witch Cozy Mystery & Romance
In the small town of Waresville
, witches, goblins, and ghouls are money in the townspeople's pockets. Without the magic stores on every corner and spooky tour bus ride, how would a place nicknamed "Wheresville" survive? But when Harper "Foxxy" Beck, owner of the Funky Wheel and all-around groovy witch, finds her murdered accountant plastered to her floor, the citizens are taught a valuable lesson about creatures that go bump in the night: they kill. Turning Harper's world on its head, the police arrest someone close to her, and she's forced to investigate to clear her friend's name. But as this foxy lady gets closer to the true identity of the killer and the alluring Detective Bennett, the man actually assigned to the case, the quiet town of Waresville turns into a dangerous place for a meddling witch.
Winner Takes All: An Anamorphous Tale About Origins, Aliens and Time
What if whatever you know as history is just an illusion?
T-symmetry, d G= d T: t —> ( – t)
Was WWII a Judas kiss?
Throughout the history of the world, we have seen war, the spread of civilization, discovered many wonders, but what if in all that time, Homo sapiens were merely evolving into something new? What if on the inside we are all alien? The invasion completed in the midst of WWII. Homo Avatarius now rules the Earth.
"Winner Takes All" is a trilogy set of "Alpha Tauri Strain", "Code of Disjointed Letters" and "Homo Avatarius".
1920 Vienna, Wilhelm Reich is a medical student, working as a night nurse at a mental hospital when he meets and falls in love with Maria Orsic, a stunningly beautiful young woman who just happens to be diagnosed with paranoid schizophrenia. He helps her escape, only to lose her the next morning. Years later, he is a respected psychiatrist working in Berlin when he meets her for the second time. And she needs his help again — with a message she's received from the aliens.
Minecraft: How To Train Your Ender Dragon 2- Blind Trust (Minecraft Books For Kids)
How to Train Your Ender Dragon 2 – Blind Trust
Can Steve bond with his dragon?
The Minecraft world has officially accepted Steve – he trained his dragon and proved his worth. And not just any dragon – he trained an Ender Dragon to be able to carry him, which, as all the Minecrafters know, is a feat to be admired indeed!
The Tumor: A Non-Legal Thriller
John Grisham says THE TUMOR is the most important book he has ever written. In this short book, he provides readers with a fictional account of how a real, new medical technology could revolutionize the future of medicine by curing with sound.
THE TUMOR follows the present day experience of the fictional patient Paul, an otherwise healthy 35-year-old father who is diagnosed with a malignant brain tumor. Grisham takes readers through a detailed account of Paul's treatment and his family's experience that doesn't end as we would hope. Grisham then explores an alternate future, where Paul is diagnosed with the same brain tumor at the same age, but in the year 2025, when a treatment called focused ultrasound is able to extend his life expectancy.
Flying Lessons: It's never too late to change …
Henry and his adult daughter
, Chandra, are haunted by the past. Stuck in a state of mourning, they long to return to a time when the family matriarch was still alive. Chandra misses her mother's guidance. Henry wishes he could recapture the final precious moments with his wife. Each wonders if they will find happiness in life again, until unexpected relationships shake up their perceptions of reality. Henry's new friendship with a neighbor blurs the boundaries between the living and the dead, and Chandra starts to see possibilities she's never noticed before. Flying Lessons is a heartwarming, magical realism novel about relationships, hope, and healing that will stay with you long after you read the last page.
LEGENDS: Fifteen Tales of Sword and Sorcery
Seventeen New York Times
, USA Today, and Amazon bestselling authors bring you fifteen epic tales of Sword and Sorcery.
LEGENDS is a ONE TIME ONLY limited bundle with over a million words of fantasy reading including original, never released stories from bestselling authors Nick Webb and K. F. Breene.
Immerse yourself in captivating worlds and kingdoms where fearless warriors quest, powerful sorcerers battle fiery dragons, and humble peasants rise from poverty to riches.
A Mighty Fortress (Hymns of the West Book 1)
"Stay back!" Joshua ordered. He kept his eyes on the scene below while waving his arm in Ruth's direction. "Get deeper into the woods and stay down low to the ground."
Joshua hazarded a glance behind him. He could no longer see Ruth and breathed a sigh of relief. In one swift move, he grabbed his rifle and lay flat to the ground. Extending the rifle, he aimed at the shorter man whose gun was pointed at Bradshaw.
SOAP MAKING: Beginners Guide to Make Natural Herbal Handmade Organic Soaps from Scratch
SOAP MAKING: Beginners Guide to Make Natural Herbal Handmade Organic Soaps from Scratch: Soap Making (Soap Making Kit, Molds, Moulds, Oils, Scents, Soap Making)
Are You Tired of Using Harsh Chemicals to Skin?
Do You Want to Learn Amazing Ways to Wash Your Hair, Clean Your Skin and Smell Good?
Do You Want to Make Great and Unique Gifts?
If you have answered a big YES to one or more of these questions, "SOAP MAKING: Beginners Guide to Make Natural Herbal Handmade Organic Soaps from Scratch" is the book for you! This book has been written specifically for people who want to learn more about how they can naturally make soap.
Thin Wire: A mother's journey through her daughter's heroin addiction
Thin Wire is an honest
and intimate account of heroin addiction told by both mother and daughter. Amber is introduced to drugs and becomes addicted without her mother's knowledge. She meets a dealer who feeds her habit. Whilst living together, they are raided by the police. Bailed to her mother's address with a £200-a-day addiction, Amber doesn't think her family will accept her back when they discover the truth. When she's charged by the police with dealing class A drugs and accepting stolen goods, she fears she'll go to prison. Trying to feed her habit alone, Amber meets a fellow addict who offers to introduce her to prostitution.
Snatched (A Diana Hunter Mystery Book 2)
What would you do if you discovered a dead body? Would you investigate? Try to solve the case before the police arrive?
Would you prattle on about theories regarding the murder, realizing you know almost too much about it? Would you put the handsome detective off balance so that he then accuses you of being the murderer? All before 9AM? No… surely no one would do that?
Clearly, you haven't met Diana Hunter.
The Messenger: Mortal Beloved Time Travel Romance, #1
USA Today Bestselling author, Pamela DuMond, pitched the real life ERIN BROCKOVICH story to 'Hollywood.' Now she brings readers the first book in THE MESSENGER Mortal Beloved Series — "a gritty and gorgeous", Time Travel Romantic Thriller.
A boy from the past. A girl from the future. Their love could be forever, but their time is running out…
Madeline falls in love with Samuel when she accidentally time travels hundreds of years into the past.
Their relationship is forbidden. Samuel's half Native and Madeline's white. Every rendezvous they share must be secret. If discovered they could be brutally punished.
But Madeline's traveled to the past not only to fall in love, but also to claim her birth right as a Messenger, a soul who can slip through time's fabric, delivering messages that change one life, or save many. Deadly Hunters, dark-souled time travelers, crave her powers and seek to seduce or kill her.
Tiny Homes: Tiny Homes for Beginners, Join the Tiny House Movement (Tiny Homes, Tiny Houses, Tiny Home, Tiny House, Small Home, Small House, Little Home, Little House, Tiny House Movement Book 1)
Tiny House Movement
In our country, everything is getting bigger. The more things that you have, the higher your status in most circles. But just because you have more stuff, a bigger house, more cars, and take more vacations, does not mean that you are happy. While the current American thought is that you should get as much as possible, there are many who want to change things up and see smaller as better.
Childrens Books: The Enchanted Hat: free childrens books, books for kids, childrens books, childrens books for free
What if you could travel through space and time…
David is an ordinary boy, with an an EXTRA-ordinary hat! A hat that can take him to places, well beyond his wildest dreams!
Sail on a pirate ship, dance with wild animals, go on adventurous, heart throbbing expeditions… it's all possible with the magic hat!
Hold on tight, because you are about to go on an EPIC adventure!
Are you ready… let's begin!
May I Have Your Attention, Please? Your Guide to Business Writing That Charms, Captivates and Converts
Let's not mince words here: most business writing is tedious, pompous and bereft of the tiniest sliver of personality.
It's near impossible for customers to cut through the "innovative solutions" and "passion for customer service," and find out who can actually give them what they need.
For the business owner who's willing to do something different, though, it represents a major – and inexpensive – competitive advantage.
Barbecue, Bourbon and Bullets: A HoneyBun Shop Mystery (HoneyBun Shop Mysteries Book 2)
Revenge is a dish best served…smoking hot with a side of spicy fries.

HoneyBun shop owner, Ali Daniels, is in the middle of a date with a deliciously handsome police detective at the hottest NYC barbecue restaurant — when the owner is shot in the middle of a busy kitchen.
There's no gun. There are no witnesses.
Ali can't resist a good mystery to solve and decides to help the investigation along. But as she attempts to smoke out the culprit, it's Ali who risks being scorched by a red, hot killer.
Sink: Old Man's Tale
"Move over Cussler, Crichton and Conan Doyle. There's a new master of thrilling adventures."
A sinkhole is a natural phenomenon. It can happen anywhere, anytime. It drinks lakes dry, consumes jungles, and even demolishes entire mountains. You may have seen one in your street. But these things aren't lost. They've simply been moved. Things are forgotten on the surface all the time. Beneath the crust, they're always remembered.
Mystery: The Grave Man – A Sam Prichard Mystery Thriller
Meet retired cop, Sam Prichard.
Sam Prichard was a cop, and a good one, until the bullets took out the joint of his right hip. Now he's trying to learn to live without being a cop, and getting to know his neighbors, learning to walk again and even ride a motorcycle. Life is bearable, barely, but then he gets asked to find a missing child, and the lure of getting back into some kind of police work is too much for him to resist. When he teams up with computer whiz Indiana Perkins, he suddenly becomes one of the best investigators he's ever even known.
Now, he's found the missing child, but it's thrown him right into the middle of something that may be a drug war–or could be a chance to stop the next 911! There's no way out for Sam, so he's in for the ride of his life, but when the girl he's becoming fond of is suddenly drawn into the line of fire with her own little daughter, Sam is ready to forget all the rules and do whatever is necessary to win the day.
Once Gone (a Riley Paige Mystery–Book #1)
Women are turning up dead in the rural outskirts of Virginia, killed in grotesque ways, and when the FBI is called in, they are stumped. A serial killer is out there, his frequency increasing, and they know there is only one agent good enough to crack this case: Special Agent Riley Paige.
Riley is on paid leave herself, recovering from her encounter with her last serial killer, and, fragile as she is, the FBI is reluctant to tap her brilliant mind. Yet Riley, needing to battle her own demons, comes on board, and her hunt leads her through the disturbing subculture of doll collectors, into the homes of broken families, and into the darkest canals of the killer's mind. As Riley peels back the layers, she realizes she is up against a killer more twisted than she could have imagined. In a frantic race against time, she finds herself pushed to her limit, her job on the line, her own family in danger, and her fragile psyche collapsing.
Quick and Easy Recipes: 30 MINUTE MEALS: Quick Recipes You Will Love (Quick and Easy Cooking)
30 Minute Meals
Quick and Easy Recipes You Will Love
Are you tired of slaving away in the kitchen FOR HOURS everytime you fix a meal? Cooking for your family, or even for just yourself, can be a hassle….but it can also be very EASY! These delicious recipes are easy to follow, simply prepared, and just right for someone who wants to get in and out of the kitchen quickly!
New Releases
Shocco Tales: Southern Fried Sag
The South has a long tradition of fine storytellers, and now one comes along perhaps better than most. Jim Ritchie isn't bashful; he jumps right in, holding the reader spellbound with his uproariously earthy frankness. A master teller in the oral tradition, the author performs even better on the stage of these pages, making his subjects come to life with his own homespun style. The reader who has grown up in the South will swear that he knows each and every character in these tales: from the "Indian doctor" with the secret hemorrhoid cure to the bull who couldn't keep his "loins" out of reach of the youngster's BB gun; he'll identify with Bubba gigging for Giant Southern Frogs and with the curious cat that burned the cabin down; he'll remember high school teammates like "Shorty" and "Speedy", as well as college fraternity brothers like "Snake" and "Stud". And he'll laugh while remembering.
The Bitter Season
Kovac and Liska take on multiple twisted cases as #1 New York Times bestselling author Tami Hoag explores a murder from the past, a murder from the present, and a life that was never meant to be.

As the dreary, bitter weather of late fall descends on Minneapolis, Detective Nikki Liska is restless, already bored with her new assignment to the cold case squad. She misses the rush of pulling an all-nighter and the sense of urgency of hunting a desperate killer on the loose. Most of all she misses her old partner, Sam Kovac.
Scandalous Behavior
Stone Barrington is back, in fine form, in the newest thriller from the #1 New York Times–bestselling author.
After a series of nonstop adventures, Stone Barrington is eager for some peace and quiet in a rustic British setting. But no sooner does he land in England than he's beset by an outrageous demand from a beautiful lady, and an offer he can't refuse.
Blue: A Novel
Ginny Carter was once a rising star in TV news
, married to a top anchorman, with a three-year-old son and a full and happy life in Beverly Hills—until her whole world dissolved in a single instant on the freeway two days before Christmas. In the aftermath, she pieces her life back together and tries to find meaning in her existence as a human rights worker in the worst areas around the globe.
Silver Wood Coven – The Complete Series Box Set: A Witch and Warlock Romance Series
What if you had no memory, not even of being a witch?
"Falling in love with the series again and again."
"Hang on for this one, it's going to be a bumpy ride. ;-)"
RESCUED
Silver Wood Coven Book One
Templar Michael Charbon has been watching the young witch for months. Homeless, beautiful, and living in Central Park, she seems to charm everyone she meets. They shower her with kindness, and yet he never witnesses magic. Only when he rescues her from a rapist, does he understand why: Summer has no memory, not even of her real name. Though he barely resists her inexplicable pull on him, he would gladly break his vows to make her his own.
An Eye For An Eye: An Action-Packed Political Thriller
A powerful drug lord threatens to bring America to its knees.
Only one man can stop him.
Two years ago, Secret Service Agent Matthew Richter faced the most difficult decision of his life, knowing that by saving the former, the latter would die. In the aftermath, he fled Washington and the agency that failed him. With wounds he's certain will never heal, he seeks refuge behind a gun as the commander of an FBI SWAT team in New York. After a raid turns sour and Richter is sidelined, possibly for good, he is reluctantly drawn back to Washington by the man he once saved.
Love in a Fix: A Contemporary Christian Romance
Modern Conveniences- a new series featuring contemporary marriages of convenience.
As a widowed, single mom, Lyndsey Allen has a load of financial troubles. Despite her best efforts to stay afloat, she faces foreclosure. With a young son to consider she needs a miracle and quick, but pride won't let her accept money from a longtime friend.
When handyman Shep Patterson promised his best friend that he'd look after Lyndsey should anything happen to him, he never imagined that would include marriage, yet a proposal slips from his mouth.
Autographed Books
My Uncle Pat
My Uncle Pat
lived a rather unique and mostly bizarre life. If you found yourself in his company, you were soon attracted by his charismatic personality. He was an interesting man because of his rather different approach to all that life presented him. He was an attractive, likable misfit.
This man could make you laugh and become angry, all at the same time. He was a dreamer and a schemer. When the good Lord made him, He threw the mold away. I've never known another like him.
Perhaps his family and his heritage contributed to his uniqueness.
TWO LIVES ONE LIFE
A young boy from rural Georgia and an old man
in a nursing home have nothing in common. Nevertheless, a lasting bond is the result of their chance meeting. Deep and meaningful exchanges of life lessons and experiences dominate their conversations over time. The old man gains new meaning and purpose for living from the friendship and the boy grows in wisdom and knowledge as the old man guides him along. These completely developed characters are both complex and interesting. The old man has no known past, which is not fully revealed until the very end of the story. The source of his great wisdom and depth of knowledge is then quite evident. The book is about personal relationships, family values, small town life, university experiences and wartime combat.
My Mama's Closet
Little girls
watch their mothers all of the time, and every mother has an intriguing boutique behind her closet door. At bedtime or anytime, little girls of all ages will delight in the forty-page book entitled My Mama's Closet by Alice Rhea Mitchell. When the little girl in the narrative poem explores her mother's closet, she spies the corner where her mother has placed items for the little girl to wear
TALES OF SLEEPY DRAGONS
In Bill Wilson's third children's book he answers the question "Of what do dragons dream?".
Why the same things we do: being ballerinas, mermaids, cowboys and much more. And this alphabet picture book tells of their dreams, from A to Z.
MIDNIGHT
With this collection of thirty additional tales—short and long, lighthearted and gritty—master short story author John M. Floyd invites us once more to strap ourselves into a ride that entertains as well as enlightens. And, as his readers have come to expect, almost every story features two ingredients that Floyd admits he loves: nonstop suspense and a Hitchcock-like surprise ending.
Mississippi Innocents
Mississippi Innocents
is a Southern Gothic Novel set in the Mississippi Delta at the turn of the twentieth century. It was inspired by the stories of my mother's childhood on a Plantation called Boone Deadening in Washington County, Mississippi. It draws from the rich cultures of the delta, including Black, Choctaw, and her own as a descendant of early English and German settlers. The book is based on these family stories and is woven together with my own imagination, childhood experiences and those of my siblings into one continuous cloth that is Mississippi Innocents.
Saving Mississippi
Amid the misconception from television, the movies and the media for many decades, finally comes a story of, and from Mississippi that tells it like it is, and was. The remarkable tale begins in the turbulent sixties when a young black man has the courage to open his law office in the small fictional Mississippi town of Stuttgart. Michael Denton Washington, III meets every challenge that era presents and progresses in spite of tragedy, misunderstanding, ignorance, and prejudice. In this story, patience and love prevail, and the young lawyer and the state rise above the chaos of the times. Religion and individual spirituality serve as the background for how Washington is able to cope with the hand life deals him. Illustrated with rare folk art by Marcia MacLean. THE NOVEL IS NOW IN ITS THIRD PRINTING.
Rocking Chair and Afternoon Tales
These 26 stories span the history of Mississippi, from the Civil War era through modern times. Each is set in Mississippi, bringing the unique flavor of local landmarks, dialects, and viewpoints in a blend of delightful voice. Most of the authors and poets are award winning, all with Mississippi roots and stories of our heritange.
Curtis Wilkie: "No state in teh Union produces more good stories, per capita, than Mississippi, so it's a treat to see this new collection of prose and verse from homegrown writers."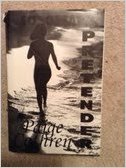 SO GREAT THE PRETENDER
Patie Corbin,a former college All-American and New York Giant All-NFL half-back finally realized he had made a giant mistake – but what could he do about it now? It was too late to back out! And besides, he wanted to help his country.
The Letter Writer: A Reporter's Civil War Journey
Growing up in 1850s Alabama, Cooper Waterman longed to become a man of letters – a lofty dream for a handicapped lad who was poor and fatherless, and left school at 13 to become a shoeshine boy. But with his imagination, a notebook and a stub of a pencil, he rose to become a newspaper reporter, eventually going off to serve as a Civil War correspondent. Covering an epic American struggle, Cooper survives the siege of Vicksburg and rides through bloody cavalry battles with the formidable General Nathan Bedford Forrest, taking time along the way to write letters to home for hundreds of wounded or illiterate soldiers. Compelling, ringing with authenticity and told through the eyes of a southern journalist, The Letter Writer is a Civil War story remarkably different than any you may have ever read.
The East End Tea Room
This is a true story about the citizens of Mississippi weathering the storm in the 1960s when hundreds of civil rights activists from the North invaded the state. It was during a time when black ghettoes in the civil rights workers' own backyards in Northern cities were about to explode in death and destruction. In one year, 67 race riots broke out in Northern cities. In Detroit alone, 43 people were killed and millions of dollars in property was destroyed.
BOSS, JAYBIRD AND ME: AN ATHOLOGY OF SHORT STORIES
Boss, Jaybird And Me : Anthology Of Short Stories contains works written by author Jimmy Reed that focus primarily on his boyhood years spend on his father's Mississippi Delta cotton plantation. Many of the stories relate his relationship with Jaybird, a wise old black man who was Reed's boyhood best friend and mentor. Uniquely, each story contains exactly 500 words.
THE SOUL OF A HORSE
"Yes, this is a warm, cleanly-written and simply but powerfully-drawn book about how to understand and raise horses. But it is so much more that it deserves a voyage of discovery when the reader has plenty of time to ponder how things fit together, how we learn, why we do what we do, and how much caring and patience outweigh discipline and over-direction. Camp provides a central clue in a simple paragraph that begins the book: 'Often, in the evening,' he says, 'when the stresses of the day are weighing heavy, I pack it in and head out to the pasture. I'll sit on my favorite rock, or just stand, with my shoulders slumped, head down, and wait.